Custom Plastic Products
Custom Plastic Manufacturing Services
In our workshop, we convert protoypes, designs and ideas into tangible, useful plastic products and parts. We offer plastic manufacturing, including plastic fabrication, plastic machining and plastic engineering.
We cut, polish, drill, bend and even weld plastic. We can use your designs or create designs for you.
We can make one-off samples – or hundreds of thousands of products for you.
Phone 1300 88 32 45 to discuss your plastic manufacturing needs with our expert, friendly team.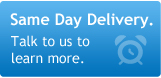 Follow us